100% Satisfaction Guarantee!
Improves Curb Appeal
High-Quality Soft Washing Service
Increases Life Expectancy of Your Home
Excellent Customer Service
Call
(443) 528-3152
Contact Us for a Free Estimate!
Check Out What Our Customers Say
Google Business Reviews 5.0 
The Best Pressure Cleaning Service in Baltimore, MD
"Josh, Brian, Garrett, and Cory did an amazing job on 13 of the slate roofs in our townhome community. More than 40 years of dirt and crud had accumulated, and they went the extra mile to leave them all looking like new. We would not hesitate to recommend them to any community looking for superior service as well as a professional and friendly attitude."
James H.
Roof Washing Service
House Wash Baltimore, Maryland Reviews
"Josh and his team are awesome! Highly recommend! From start to finish, it is obvious they take pride in their work and truly care about their customers!"
Brittany S.
House Washing Service
Highly Recommended Pressure Washing Company in Baltimore
"We had our roof soft washed and our deck power washed and stained. What a fabulous job! I have a white roof under my deck and was concerned about paint getting on it. Mauricio did a fantastic job at keeping it clean and paint-free. A perfect job! Josh did our roof and it looks brand new. Trust me, they are a really, really great company."
Terri P.
Increased Curb Appeal
Do you need a professional power washing company in Baltimore, MD?
Baltimore Power Wash
will be more than happy to care for your house and property. We have many years of experience, and it's always good to call the experts when you're in a sticky situation. Both commercial and residential properties need pressure cleaning services regularly. Why is preventative maintenance so important? Because it can save you money on repairs, extend the life of your property, increase the curb appeal of your home, and create an inviting atmosphere for your business. If this is your first time considering a pressure cleaning service, there are some important things that you as a home or business owner should know.
Power Washing in Baltimore, MD
Residential Pressure Washing Services
Extreme weather conditions can severely affect the exterior of a home. There are several parts of a home that can be restored after a thorough wash!
The cosmetic part of cleaning the home's exterior is a cinch. However, there are other concerns that could affect the health of your family. Isolated mold can easily be removed with the proper pressure washing chemicals and techniques. If you or someone in your family has allergies, mold is especially dangerous.
To contain mold growth, Baltimore Power Wash will come out to your home and remove any and all signs of mold from these areas. That way, you and your family can feel comfortable in your home without worrying about additional allergic reactions or other health concerns. We can't stress enough how important this is, especially since mold can carry toxins.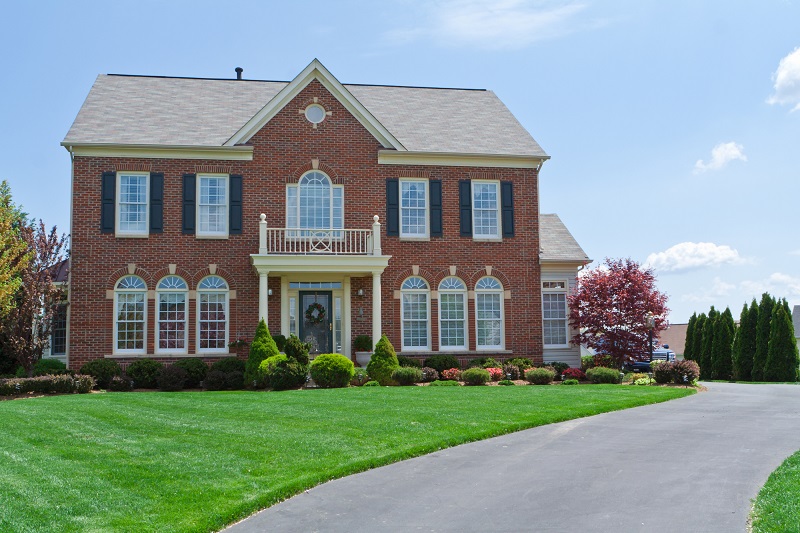 Keep your home and property safe and healthy with our pressure cleaning services. What do we clean?
Siding
Driveways
Garages
Sidewalks
Decks
Patios
What We Can Do For Your Property!
Exterior cleaning is an instant and satisfying way to beautify your property. You will be amazed at the difference it makes! It'll give your home or business a fresh new look.
Before & After Deck Cleaning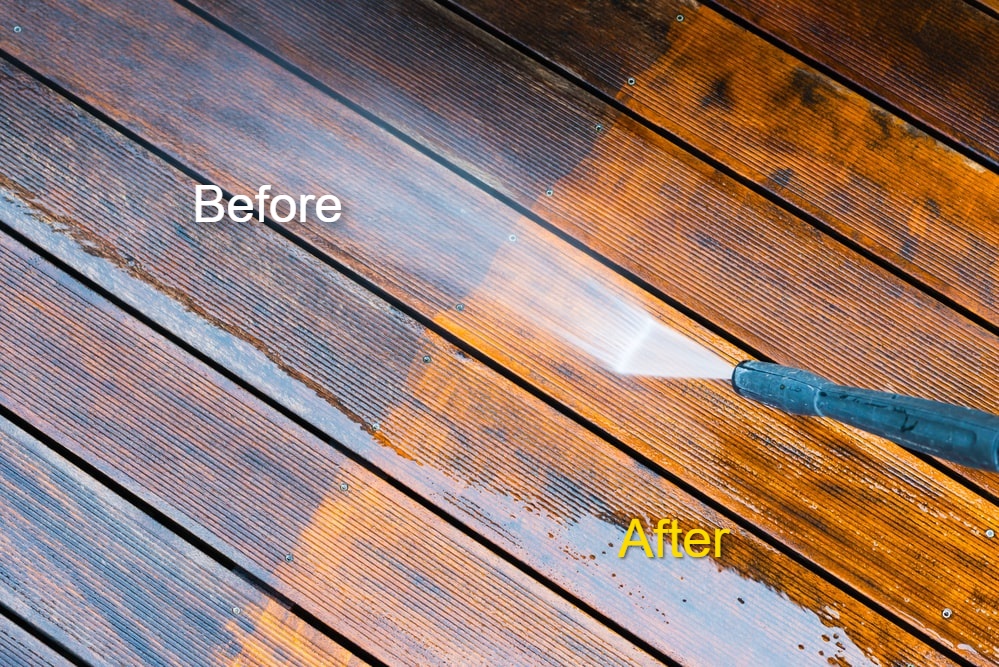 Before & After Exterior House Wash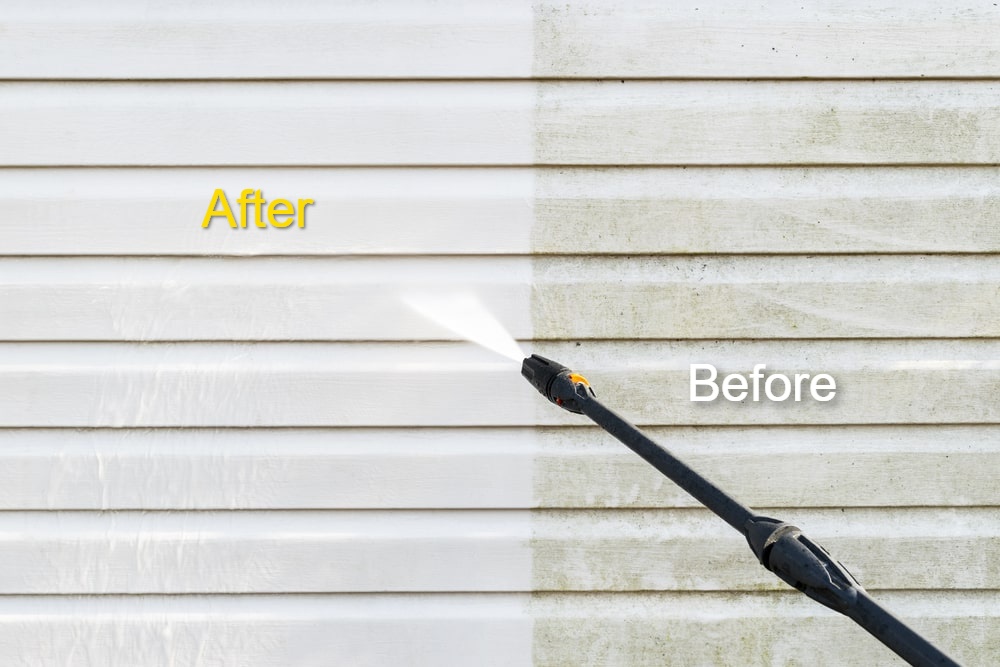 Call
(443) 528-3152
Contact Us for a Free Estimate!
Commercial Pressure Washing in Baltimore, MD
Pressure Cleaning Your Business
Owning a business is all about attracting people to your company. If the exterior isn't well-maintained, it's possible you could lose business. Most owners don't think about power cleaning as an exterior preventative maintenance measure. However, this approach can keep several areas looking their best.
We Can Help!
Eventually, each one of these areas begins to degrade. They start to look dirty or dingy because of outside elements and the wear and tear of daily use. When Baltimore Power Wash comes out to assess each area, they will provide you with an explanation of what needs to occur. Our team of experts will know which non-flammable, non-toxic, and biodegradable chemicals should be used for your situation.
Here are some of the exterior cleaning jobs needed to keep your storefront looking great:
Building
Concrete and Brick
Dumpster Areas
Front of Store
Parking Lot
The Results?
After completing each job in a timely and efficient manner, the exterior of your store will look great, and it could draw people to your business! We love supporting Baltimore companies. Our services make our community shine.
4 Benefits of Pressure Washing
Save Money On Repairs
Our services can slow down the deterioration and wear and tear of your property. And it curbs the need for expensive repairs and pricey replacements down the line.
Increase Curb Appeal
Removing contaminants and cleaning your exterior surfaces can reverse the aging of your property. That will help sell a house, keep the neighbors happy, or just make you feel like a million bucks when you are entertaining company!
Save Time
You have a lot on your plate. By delegating this task, you are better able to handle other matters in your life. We've cleaned hundreds of homes, just like yours, in the Baltimore area. Let our experience save you valuable time.
Real Estate Value
Do you want to fit in or stand out? Exterior cleaning offers a way to make your property shine and look its best among other houses that are on the market. Talk to our expert technicians to learn more about increasing your property's curb appeal.
Your Local Power Washing Company
The best thing to do is give us a call. We can walk you through our process and address the specific needs and concerns you have regarding your home, business, or other property.
Our Safe Cleaning Promise
Unfortunately, there are many power washing companies that cause damage by using excessive pressure during the cleaning process. With our years of experience, we understand how much pressure to use on each surface of your house without risking your home's integrity.
Baltimore City
Washington DC
Towson
Ruxton
Hereford
Cockeysville
Lutherville
Glyndon
Monkton
Reisterstown
And More!
Why Use Us?
100% Satisfaction Guarantee
Our 5-star reviews on Google from many happy customers show that we don't leave until you're happy with our work.
Contractors You Can Trust
When you're going to have workers in or near your home, they should be people you can trust. We respect you and your property. And we treat your home with the great care!
We Are Flexible, Reliable, Efficient
We know you're a busy person. So when you hire us, we'll show up on-time, every time. That is the promise we make to you!
We're a Local Business
We live and work near Baltimore, Maryland. So we're proud to care for the homes and businesses in our community!
We Proudly Serve Baltimore, Maryland
Call
(443) 528-3152
Contact Us for a Free Estimate!
Baltimore Power Wash Proudly Services
Baltimore City
Washington DC
Ruxton
Hereford
Cockeysville
And More!
Baltimore Power Wash
Call: (443) 528-3152