Commercial Cleaning
100% Satisfaction Guarantee!
Excellent Customer Service
Increases Life Expectancy of Your Home
High-Quality Soft Washing Service
Improves Curb Appeal
GET A FREE ESTIMATE
Our Safe Cleaning Promise
Unfortunately, there are many power washing companies that cause damage by using excessive pressure during the cleaning process. With our years of experience, we understand how much pressure to use on each area of your building and property without damaging the surface.
Call
(443) 528-3152
Contact Us for a Free Estimate!
How Exterior Cleaning Can Help Your Business
The clean appearance of your commercial property reflects your pride in your company and your commitment to current and future customers. But running your own business means you already have enough on your plate. So how can you find the time to increase the curb appeal of your commercial building?
We can help! Using Baltimore Power Wash is a smart, low-cost preventative maintenance solution to this problem. With our Custom High Output Hot Water Equipment, we are more than capable of tackling the dirtiest jobs!
If you would like the best pressure washing service for a commercial property in Baltimore, Maryland, contact us!
Which Services Will Improve Your Commercial Building?
Siding

Parking Garage Cleaning

Gum Removal

Grafitti Removal

Dumpster Area Cleaning

Restaurant Hood and Duct Cleaning

Office Buildings

Apartment Buildings

Condominiums

New Construction Clean-Up (Certified)

Strip Malls

Water Towers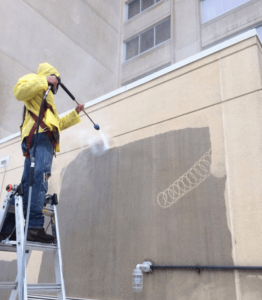 3 Benefits of Pressure Washing Your Commercial Property
Saves Money
Regular maintenance helps you avoid expensive repairs. It prevents small issues from becoming big problems.
Increases Curb Appeal
The increased curb appeal attracts customers and reflects well on you and your business.
Saves Time
You're a busy person. And delegating this task will make your life easier. Pressure washing requires experience, the right tools, and the skills to clean different surfaces without hurting them. Let our experience save you valuable time.
Siding
Roofs
Driveways
Concrete
Walkways
Fences
Decks
Commercial Property
Call
(443) 528-3152
Contact Us for a Free Estimate!